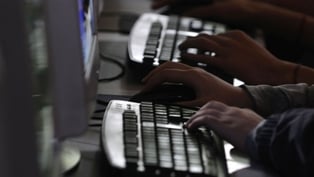 Minister for Education Ruairí Quinn has said that teachers are increasingly becoming the victims of cyber-bullying by pupils.
Mr Quinn was responding to reports that a school in Dublin was forced to expel four students after they posted abusive remarks about their teachers on Facebook.Speaking on RTÉ's News at One, Minister Quinn said the case underlined the growing problem of
bullying
on social networking sites. He said there is "a problem with
bullying
in schools in Ireland and cyber-
bullying
is now a reality". He added that this can "allow for, in effect 24/7
bullying
", which he said, in some extreme cases, had led to suicide.The minister pointed out how the current department guidelines on
bullying
had been in place since 1993 (before the internet age) and things had "changed dramatically".He said a working party has now been set up to look at ways to tackle the problem; the first phase will concentrate on homophobic
bullying
.
Submissions will be accepted up until 29 June and will go towards forming new policy in the area. Fitzgerald commends youths who oppose bullyingMinister for Children and Youth Affairs Frances Fitzgerald has spoken of her admiration for young people standing up against homophobic bullying.Minister Fitzgerald and the Minister for Education and Skills, Ruairi Quinn, are hosting the National Anti-Bullying Forum today to bring stakeholders together to help tackle bullying.Minister Fitzgerald said she had been impressed with how young people are leading the way on challenging attitudes and breaking down stereotypes against homophobic bullying.Today is the International Day Against Homophobia and Transphobia.