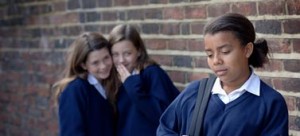 The school environment has the power to make or break a child. Schools can be exhilarating and enjoyable places of learning where children are nurtured, respected and stimulated or they can be vicious venues where they are stigmatised, abused, and excluded.
The latest statistics on bullying in Irish schools are simply shocking. 1 in 4 pupils or 175,000 young people in secondary schools are falling victim to this vicious behaviour. The evolution of modern communication technologies combined with the increasing integration of our multicultural society has led to such new dynamics as cyberbullying and racist bullying in addition to the more traditional forms.
Based on the figures above, it is likely that you or one of your classmates close by is a victim of bullying behaviour. It is equally probable that someone in your vicinity is a bully. But you do not have to suffer in silence any more – there is information at your fingertips on this website.
In each and every case of bullying or suspected bullying, adults must intervene. Failure to do so gives a silent yet powerful message that aggressive behaviour is appropriate and acceptable. Whether you are a bystander, parent or schoolteacher, there are steps you can take to ensure that children are kept safe and that their dignity is respected.
For more information, see Understanding.